About Us-Jiangmen Richxing Vifotex Co., Ltd.

Lisciolite
Lisciolite Series
Lisciolite Series is Richxing company continuous long seamless reflective spray printing materials for a new brand. Lisciolite ® reflective spray printing material is Richxing company many years research and development in the major breakthrough in the field of reflective material.
[MORE]
---

Jingkelite
Jingkelite
JKL products, created with the purpose of increasing road safety, mitigation of claims due to accident, are also well suited for CI purposes when installed on private properties, shopping malls, exhibition cent
[MORE]
---

Richlite
Richlite Series
In 2005, Richxing Technology created and introduced Richlite, the world's first direct inkjet printable reflective media for the outdoor advertisement industry. We succeeded in combining the inkjet printability of mirco-prismatic reflective with conventional flex...
[MORE]
---

Solution
Solution For You
Rrichxing company based on WeiFu Thai technology and core.With its exclusiveness and unique technical effect. Convenient we provide the customers with the unique and effective green flag line superintendent system engineering solutions.
[MORE]
---
there is no news at the moment... ...
Company Vedio

New Products
Our Partners

Customer Case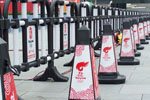 ---

Partner
Distributor
Business Online